If you're not on the electric bandwagon yet, it's time to jump on now. There's no two ways about it: the revolution is real. All over the world the electric vehicle market is gaining ground. As the EU is putting its climate goals high on the agenda, the idea of 'sustainable living' is finding its way to the Europeans' hearts. The demand for electric vehicles is shooting up, established companies are pushing the boundaries of electrification, and startups are looking for creative ways to facilitate it all. Welcome to the revolution!
Now, what does that mean for EV batteries? The most recent forecasts reveal that by 2030 we'll need twelve times more gigawatt hours of battery power than today. Twelve times(!) more in ten years, that means things are moving fast.


In this article we'll take a look at the industry leaders behind the rising demand, to get a glimpse of what this electrified future will look like.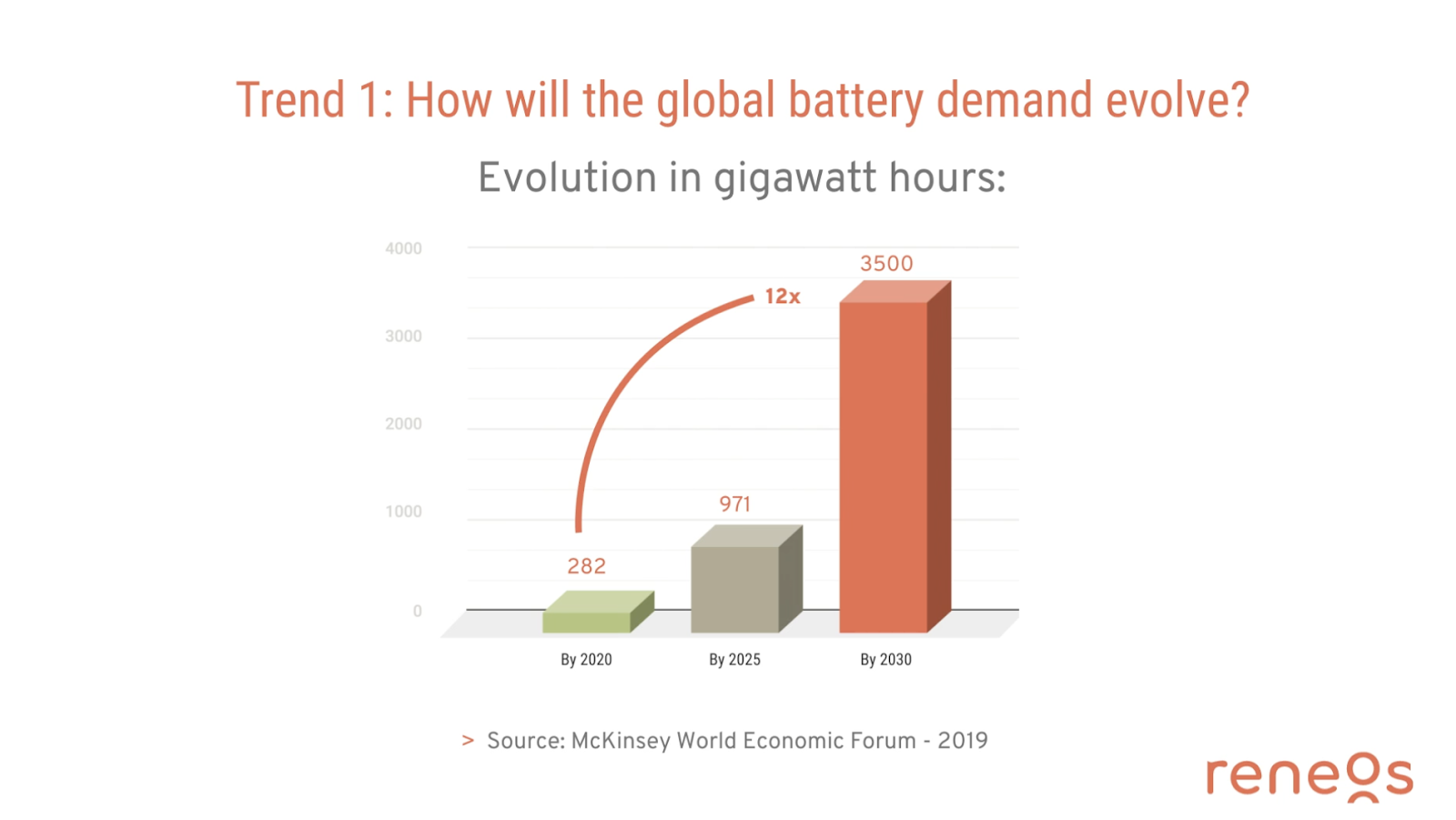 The leading EV passenger car companies in Europe
When it comes to the worldwide EV passenger car scene, all eyes are on Tesla. And surely for Europe, sales statistics tell us that Tesla's Model 3 is by far the best selling passenger car this year. After all, it's the only big car brand that focuses all of its efforts on electric.
But Tesla is definitely not the only big player on the European EV market. Established car brands are making massive shifts towards battery powered vehicles. In the category of fully electric cars, Renault Zoe is in second place, closely followed by the Audi e-Tron and Volkswagen's e-Golf.

The EV sales numbers are only expected to climb higher. And once your company is on board of this unstoppable rocket, you are urged to tackle an inevitable challenge: what are you going to do when the batteries arrive at the end of their EV life? The EU expects you to take responsibility and follow the Waste Management Hierarchy.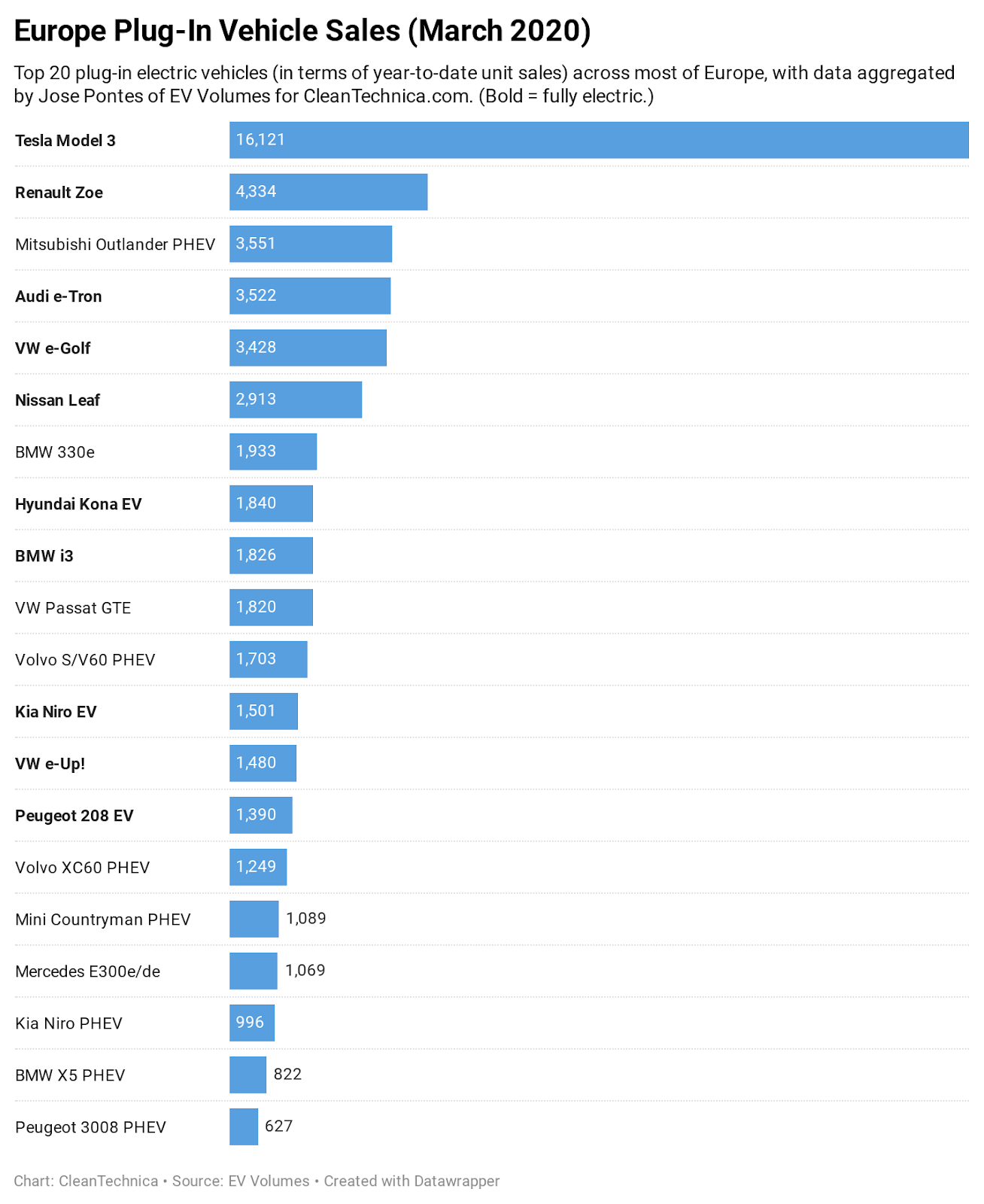 So let's take a look at how some of the industry leaders are dealing with this challenge:
Tesla's gigafactory: Tesla is fully embracing the circular economy and recycles all of its batteries. "We have partner companies on every continent where we have cars operating, to deal with battery recycling", said Jeffrey Strabel, CTO of Tesla (2018). But in addition, Tesla is developing internal recycling processes in its Nevada gigafactory. "Ultimately what we want is a closed loop at the gigafactory that reuses the same recycled materials."
Renault's second life partnerships: As of May 2020, the fleet of the Renault Zoe consisted of over 166.000 units in Europe, making it the leading electric car model in Europe. But that also means that 166.000 battery packs are coming back for recycling within the next decade. What is Renault's answer to that? Renault has entered into partnerships with companies like Powervault, to ensure that end-of-life EV batteries get a second life in energy storage.
Audi's cobalt and nickel recovery: Through its partnership with material expert Umicore, Audi has chosen the 'recovery' route. Audi and Umicore have been able to recover more than 90% of the cobalt and nickel in the lithium-ion batteries of the Audi e-tron. They are developing a closed loop for cobalt and nickel, aiming to use the recovered materials in their own new battery cells.
E-volution in public transport
The EV revolution is not limited to the passenger vehicle market only. With currently 4.000 electric buses driving on European streets, we find ourselves at the beginning of an astounding transformation in public transport.
The Netherlands are coming out as top of the class. In 2015 an agreement was signed by the Dutch leaders, which said: from 2025 on, newly bought buses for public transport have to be emission free. But already today in 2020, 15% of the buses in The Netherlands is electric. (That's 770 buses, 486 of which were supplied by the Dutch company VDL.)


The rest of Europe is following in The Netherlands' wake. The UK is introducing 105 new electric double decker buses in the fleet between 2019 and 2020. Gothenburg, the hometown of Volvo, is taking the lead in zero emission bus systems in Sweden, with an order of 30 electric buses of the model Volvo 7900. And in Norway, the public transport company Ruter estimates that in nine years all public transport in Norway will be zero emission. That includes buses and boats.
Now that the EV route has been opened, the public transport domain finds itself at a tipping point. All over the world, organisations are testing new innovative means for public transportation. E-mobility paves the way for 'smart mobility', and as we speak, experiments with driverless shuttles are popping up all over the world. Who knows what else is coming our way in the next few years.
A multisector revolution
What makes this revolution so critical to keep up with, is that it will affect almost every sector in business. Many different industries will have to consider the opportunities and challenges of this new electric era, if they want to stay in the game.
Firstly, the car industry and everyone involved in the car manufacturing process will need to shift focus to EV. Battery manufacturers will have to find ways to manage the rising demand, and power companies will have to deal with new challenges, like increased pressure of fast-charging stations on the peak-load capacity of feeder-circuits.
At the same time, technology companies are finding new opportunities in partnerships with the auto industry, as software plays an essential role in efficient functioning of electric vehicles.
And let's not forget the transport and logistics industry, which will soon be turned upside down, as many companies worldwide are working on ways to reduce CO2-emissions of trucks. Only a few years from now, electric trucks, autonomous vehicles and new technology will define the sector.
These examples are only the tip of the iceberg. This revolution leaves no-one unaffected.
EV startups to watch
As you would expect, the EV boom provides a lot of opportunities for highly ambitious startups. Tesla's success is inspiring a lot of entrepreneurs to get in on the act and become the next big thing. And that's good news. The creativity of startups plays a key role in this revolution, as they have the freedom to come up with fresh, out-of-the-box ideas that help the world to fully switch over to this new way of living.
These are some remarkable European startups to watch:


Irizar is the first European plant that is totally dedicated to e-mobility. In their 18.000 square meter building in Aduna (Spain), they are building electric buses, trucks and EV parts in house.


Nikola is a US-based company, but with strong ties to Germany and Italy. Nikola is challenging Tesla on the electric truck scene, in a mission to transform the transportation industry and leave the world a better place.


Einride is pushing the boundaries of autonomous truck design. This Sweden-based startup has created the first fully electric, totally autonomous transport vehicle to operate on a public road in the world. "With remote monitoring and operation capability, operators can oversee and control the Pod on-demand, with no need for a human driver onboard. Technology doesn't get cooler than this." (einride.tech)


Northvolt is one of Europe's biggest battery startups, founded by ex-Tesla employees. This giant battery factory in northern Sweden is aiming to produce 32GWh of capacity every year (just short of Tesla's Nevada Gigafactory levels).
"While China has been in the lead so far when it comes to producing the batteries needed for electric cars, Europe now has an opportunity to catch up."(Peter Carlsson, Northvolt).


Within the same group, Northvolt's subsidiary Hydro Volt will be the first battery recycling facility of its kind. Its partnership with the established Norwegian battery recycling company Batteriretur will ensure the highest efficiency in recycling end-of-life batteries. Mid 2021 is the objective to be operational.


Skeleton Technologies is breaking into new territory when it comes to fastcharging. The Estonian startup is in the process of developing the SuperBattery, a graphene battery with a 15-second charging time, which can be recharged hundreds of thousands of times. If the development succeeds, Skeleton will eliminate three of the main worries of electric car owners: slow charging time, battery degradation and limited range.
Where do you fit in this EV revolution?
When we look at the big players driving the EV revolution, there is one thing they have fully understood: their future is hinging on batteries. Soon enough, they will have to be prepared to reintroduce thousands of used batteries back into the economy and close their loop.
So where is your place in this revolution? Is your company in need of a futureproof battery strategy?
Reneos is here to assist you in creating one. We can help you find the right partners, and take care of compliance issues, battery transport, recycling, second life applications… Whatever you require, Reneos creates a tailor-made plan for your company.